Bread Matters – Local Bread Courses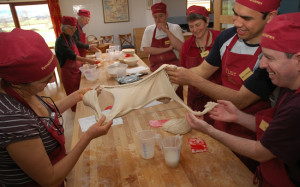 We provide accommodation for guests of Bread Matters who hold local bread courses throughout the year. It is located in an idyllic rural setting only a few miles from us and here you can learn to make real bread.
Bread Matters holds short courses for beginners, enthusiastic amateurs and professionals.
At Bread Matters you will always be taught by Andrew Whitley, Britain's leading exponent of the art of baking naturally-fermented organic breads using stone-ground wheat and wood fired ovens. In 2011 he received a BBC Food & Farming Special Judges' Award for 'changing the way we think about bread'.
Andrew has more than thirty years' experience in the business. He created one of the UK's early successful, organic brands (the Village Bakery in Cumbria) in the 1970s and now provides bakery teaching,
planning, management and consultancy to artisan bakeries in the UK and worldwide.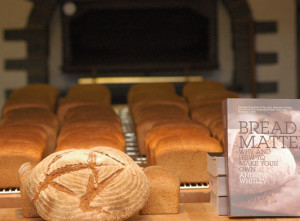 His encouragement and light-touch teaching have given hundreds of people the skill and confidence to make nutritious, digestible, tasty bread for themselves.
Veronica Burke is the cook, facilitator and host who brings people together around a table of vital and nutritious food, where great things begin to happen.
Macbiehill Farmhouse is a converted farm steading powered by sustainable energy, on an inspiring five acre organic smallholding.
The well-equipped Bread Matters baking studio, with its large wood fired oven, provides comfortably for 12 people, each making a host of real loaves; yet it retains the character of a hearth – a warm place at the heart of the house where people gather to cook, eat and tell stories.
About Andrew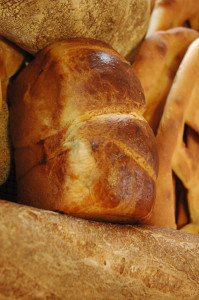 Andrew is a founder member of the Real Bread Campaign, and is passionate about educating people on the advantages of real artisan bread and the health benefits that come with it.
Andrew recently helped start a community bakery here in our local area, which we are delighted about. It means we can now buy this delicious bread for our B&B guests…mmm
He runs courses throughout the year, which you can check out on his website: http://www.breadmatters.com .  They cater for everyone, from complete beginners to professional chefs.  He has also written a book which is his foolproof guide to baking real, nutritious bread. He shows why and how to make real bread at home, guiding and inspiring beginners and seasoned bakers alike.
The feedback from our guests that have been on any of the courses has been amazing. Everyone comes away inspired and ready to make real bread!